Most of the For Action Conference speakers are in place and ready to roll. I've been working hard this week to secure their contracts (there's a lot to these things, trust me). They're flying into Colorado Springs in January to teach 50 young adults how to successfully build their own platforms to ultimately impact their world.
I've been blogging about the For Action Conference for the past week, but I haven't posted the purpose of the conference till now. The purpose of the For Action Conference is why the speaker lineup is so important. The purpose is:
To teach young people — primarily through the example of successful role models — crucial next steps in their path into business, charity and higher education, to ultimately maximize their impact on the world.
It is "through the example of successful role models" that drove me to seek out these speakers. I wanted to find examples — really good ones — of individuals who successfully broke out on their own. You look into their lives and you think, "Yeah…they have it together."
More than that: I sought speakers who were actually impacting the world for its own good. These people may be making good money or a good name for themselves, but much more importantly is that they are making the world a better place for their fellow mankind. Their hearts are genuinely bent toward Christian goodwill and compassion for others. They're generous with their ideas and eager to model to others the joy they have found in their good work.
This is the next level for talented young people, a level too many fail to climb. The For Action Conference attempts to give attendees a leg up to the action that is destined for them. You'll want to be there — and I bet you can think of a young person who should be there, too — in January at Focus on the Family for the For Action Conference.
Check out the awesome lineup we have so far…
James O'Keefe III, founder and creator of Project Veritas…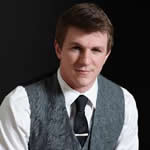 James O'Keefe is the Founder and President of Project Veritas, a non-profit organization dedicated to developing a national network of effective and courageous undercover citizen journalists. O'Keefe's groundbreaking investigations have exposed corruption and malfeasance in major taxpayer-funded institutions, including ACORN, Planned Parenthood, public education, labor unions, NPR, Medicaid, Organizing for America, State Election Divisions, Obamaphones, and many other organizations. And this crucial work continues.
In 2013, O'Keefe authored The New York Times bestselling book Breakthrough: Our Guerilla War to Expose Fraud and Save Democracy, which tells the true story of subverting a corrupt and complacent media establishment, surviving many gratuitous legal challenges, and restoring truth to journalism by successfully pioneering a new form of guerilla reporting.
Josh Taylor, founder and creator of Blimey Cow…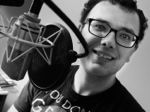 Josh Taylor is the co-creator of the YouTube channel Blimey Cow. He, along with his brother Jordan, began creating humorous videos at the end of 2005. However, it was not until the fall of 2011 that Blimey Cow kicked into full gear, beginning production on a new weekly series called "Messy Mondays." Each week, a new topic would be tackled, usually always related to the Taylors' experiences growing up as middle-class, homeschooled, Christian kids.
Their audience grew a little bit larger with each week that passed, until January of the next year when they uploaded a video called "Seven Lies about Homeschoolers," which went viral, and currently has over one-and-a-half million videos on YouTube. Now, nearly two years since that video was released, Blimey Cow has over 200,000 subscribers and 28 million video views.
The Taylors have released at least one new episode of "Messy Mondays" every week since it began in August of 2011. They recently celebrated their 100th episode of the show. Josh resides in Nashville, Tennessee with his wife, Kelli.
Andrew Pudewa, founder of the Institute for Excellence in Writing…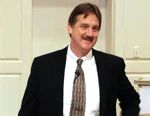 Andrew is the founder, principal speaker, and director of the Institution for Excellence in Writing. Presenting throughout North America, he addresses issues relating to teaching, writing, thinking, spelling, and music with clarity, insight, practical experience and humor. His seminars for parents, students and teachers have helped transform many a reluctant writer and have equipped educators with powerful tools to dramatically improve student skills.
Although he is a graduate of the Talent Education Institute in Japan (Suzuki Method) and holds a Certificate of Child Brain Development, his best endorsement is from a young Alaskan boy who called him "the funny man with the wonderful words."
He and his beautiful, heroic wife, Robin, are parents of seven, grandparents of four, and educators of their two youngest children at home in Oklahoma's Green Country.
Chris Jeub, president of Training Minds Ministry…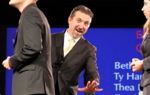 (This is me, but here's my official bio for the conference.) Chris is president of Training Minds Ministry and MC of the For Action Conference. He finds great joy in empowering others to live out the gifts God has given them. Since 2001 he has developed training materials and training camps for the academic activity of speech and debate, which includes managing over 50 authors and coaches from around the world. He loves the fact that so many young people have advanced in competition with his help, and he wants that training to launch them into living to the full.
Though he enjoys encouraging others in their pursuit of happiness, he has developed quite a family and international platform. He and his wife, Wendy, have 16 children. They were featured on TLC in 2007 and other news outlets following. Together they have written five books — each based on the idea of familial love — and they enjoy speaking to other parents about the love of family.
Chris has his MBA from Regent University (2005), lives in Monument, Colorado, and loves little more in life than to hunt with his teenagers.
Isaiah McPeak, entrepreneur and debate coach…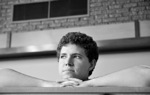 Isaiah McPeak is an entrepreneur, professional presenter, and debate coach of ten years and going. He strongly believes that form (skill) and content (wisdom) are inseparable when teaching, challenging students to learn patterns of thought for wisdom in life. If there is no "real life" corollary to anything Isaiah says, challenge him for it as the best way to test the usefulness of debate.
Isaiah is also co-founder of Ethos Debate Publications, which has published the most exhaustive policy sourcebook since 2006. Ethos leads nationwide camps and has coached on average 300+ students per summer for the last three summers. In "real life" Isaiah has started 5 organizations and is staff number 4 at what was just ranked the #1 Hot Social Media Startup (2013), 9Lenses. Isaiah's job started there as data analyst and presenter and he now has three ex-debaters working for him presenting to Fortune 500 company executives and dozens of CEOs per year.
Isaiah lives near DC with his wife, Amy, their 4-year old daughter Evelyn, and daughter in the hopper. He believes God is actually involved in history and your life, so you should talk to him and seek him in daily wisdom. He loves soccer, frisbee, disc golf, music, bean bags and hammocks, theoretical discussions, strategy games, and his home-roasted coffee.
Taryn DiMartile, CollegePlus Public Relations Manager…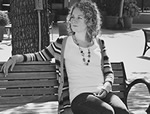 Taryn DiMartile is a born and raised Southern California girl (and a Disney nut to prove it), but moved to San Antonio, TX in March 2012 to accept a job she wasn't looking or qualified for, due to God miraculously opening doors. Little did she know that step of faith would literally change her life, her dreams, and her purpose and put her on the exciting path she's on now.
In February 2012, Taryn was a discontent twenty-something who just wanted the female version of the "American Dream" – get married, buy the house with the white picket fence, have some kids, live happily ever after and bake apple pies on the weekend. She also didn't write. Ever. Now, nearly two years later, she's a content single, building her online platform via blogging and social media, working on two books, and who's current philosophy is, "when I get to the end of my life, I want to be completely worn out and have nothing left because I lived life to the fullest every minute of every day."
Taryn is Public Relations/Social Media Manager at CollegePlus (affectionately referred to as The Job That Changed Her Life), as well as a graduate of the program. She has the privilege of spending her work days living out her passion to inspire, motivate, and mobilize people to do things. Whether it's something as small as completing a new recipe or something as large as starting a company, Taryn loves to encourage action in the people around her and feels fulfilled watching others do things they never thought possible. And if her simple words of encouragement and motivation played a small part, all the better.
Register Today
Isn't this lineup awesome? There are a lot of other awesome things about this conference. The registration website will explain much more in detail. Hopefully we'll see you in Colorado Springs in January!
January 2-4, 2014
Focus on the Family, Colorado Springs
trainingminds.org/action